Discussion Starter
·
#1
·
Hi all. Just doing up a list of faults and buying advice. If you have any more from your experience..,,,please add them and then we can do a final addition and keep the page saved. It might help new comers [Y]
Common Faults - Engine / Gearbox
Alternator Clutch - There is a Vibration heard when steering while stationary.
1.8T
A few of the older 1.8T engines seem to be giving problems. If services were missed or cheap oil used, sludge builds up and blocks the oil pickup as Dougall said above. Then starves the engine of oil and kills it. If your 1.8T is a few years old its worth a oil pressure test or even changing the oil pickup as a service item. In America the 1.8T oil sludge problem has been recognised and Audi are willing to repair free of charge, but only when customers can provide a full service schedule with the proper oil being used. If the recommended oil hasnt been used - then Audi say its your own fault.
2.0Tdi
The 2.0Tdi early engines - with cylinder head numbers v330 v320 v125 v130. The heads crack, and its seen with a loss of coolant. Replacement head needed
This is really for the B7- 2005 - 2008 2.0 CR Tdi. BLB engine code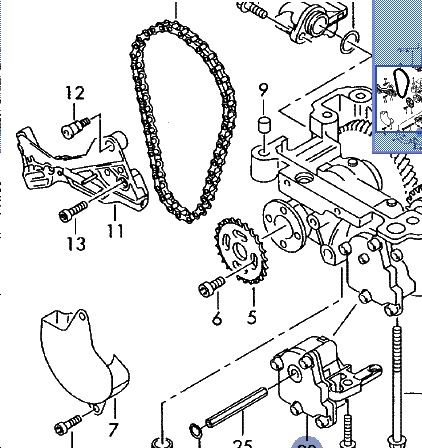 Heard of this common problem, chain seems to break and wrap itself around the cam pulley and stopping the engine
1.9 & 2.0 Tdi
TDI's with overly slow pick-ups when cold, rough idle, har to keep it going - EGR valve clogged. Take it off (really hard to get to the 3rd allen key bolt) brake cleaner/degreaser, a toothbrush, lots of rags and old clothes(!) Don't forget a new O ring when replacing or you'll get oil all over the engine bay - like me.
Recently there has been a increase in forum members having a vibration on idle and throughout the rev range. If the noise varies when the clutch is up or down, there is a good chance that the clutch release bearing and or the Flywheel is at fault. The cost of changing a clutch and flywheel is huge.
Example of this
Thermostat stuck open - Poor mpg due to engine taking ages to warm up and struggling to get to or hold at 90 degrees C
Maf - Poor power and MPG
Engine temperature sensor - low mpg
Slipping clutch - When in a higher gear and full throttle the revs shoot up without the car speeding up - seen here in this video
Tdi needs full service history with Vw spec oil - Vw/ Audi longlife has to graded 507, and fixed interval 505.01
An example:
2.0Tfsi engine faults
High pressure fuel pump cam follower on the 2.0 TFSI needs regular changing.
Diverter valve diaphragm splitting on the 2.0 TFSI engines
Suspension / bodywork
Suspension arm bushing wear, the rubber bushing at the end wears and the Entire arm must be replaced. They are quite expensive too. Worth checking them visually and then for noises on rough roads.
Electrical Faults
Saloon rear number plate lights get rusty and won' come out when you need to change the bulb - no solution, I'll et you know when I find one.
Saloon - poor radio reception - aerial amplifier needs replacing (most of the time, check out the obvious things first before replacing!)
Saloon - heated rear window - if inoperative, check screw behind rear offside C pillar - the screw that makes the connection can vibrate itself loose
Faulty Aircon - This will be seen by the Econ light staying on even when pressed. This indicates a fault in the HVAC system, which may be as simple as low gas in the system or a pressure sensor, to a leaking compressor.
Beeping from rear of car - alarm battery needs replacing.
Drivers / passenger door wiring breaks down and results in faulty locking / E windows not working etc.
Airbag light as a result of bad connection under front seats
Further Buying Advice
Always ensure that the service history is legitimate. There are fake service manuals circulating so ring the dealership to check on its history.
Always perform checks with companies that check with the DVLA.
With the Tdi inspect the colour of exhaust smoke. A small amount of black is normal. Excess black = normally a boost leak. Blue / White = worn turbo bearings.
<o
> </o
>
<o
> </o
>